大连驿宁船务工程有限公司是驿翔航运集团的下属公司,主要从事船舶修理。公司拥有一支业务能力强,技术精湛的修船队伍。管理者均毕业于大连海事大学轮机、船电专业,既有多年的船上实际工作经验,又掌握当代船舶高新技术,可对船机、船舶电气、自动化设备等各种疑难问题进行故障诊断、维修、检测、调试,同时还可以对各类船舶的液压设备、液压控制系统进行检修工作。
公司为了加强整体实力,增强竞争力,对气动元件检验方面不断加大投入,可对船用各种自动控制系统的精密阀件进行检测和标定,还可对船舶各种自动控制系统,自动监测系统,报警显示系统进行高精度的检测维修。本公司可进行各种分油机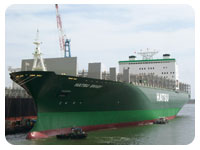 的拆检,试验以及自动控制系统的安装,调试,检修。对各种船用工业锅炉的自动系统可进行设计,安装,调试,并提供可靠的跟踪服务。对各类船用柴油机增压器,我司可进行检修,提供备件,转子可进行动平衡性能试验,并能提供要求的各种工作参数。公司还可进行船舶尾轴承及密封装置设计、制造、安装服务;船舶通导技术服务;AIS、SSAS安装服务。
公司在船舶备件、物料供应方面也具有很强的竞争力,与国内外备件生产厂家有着密切的联系,拥有具有多年采购经验的专业人员,具有广阔稳定的供货渠道,可为船舶提供高质量,低价格的进口(韩国为主)、国产备件及二手备件。我司实行询价、订货、送货到船一条龙服务,亦能应船东的要求登轮进行设备安装、调试服务。
主要产品:各类柴油机、发电机设备及零部件、甲板机械、泵浦设备、舱盖零部件、密封件、液压设备及零部件、各种阀门、波纹管、船用电气元件、船用灯具、仪表、轴承、消防救生设备、电缆、五金工具等。

Dalian Yining Shipping Engineering Co., Ltd.
The company belongs to Dalian Dawkmarine(Group) Co., Ltd. She has full kinds of certification for most repairing. Our company possesses a skilled repairing team with members are graduated from Dalian Maritime University with major in marine engineering and ship electrified transmission. The experts have many years of practical experience on ship, and also they grasp of contemporary high-tech about ships. We can diagnose, repair, test and commissioning with the ship engine, ship electrified and automation equipment and other difficult issues of fault, but also can do the maintenance work with hydraulic equipment, hydraulic plant control system of the various types of ship.
In order to enhance the competitiveness, the company continued increase investment on aerodynamic components testing. We can test and maintain the automatic control system, automatic monitoring System, the alarm display system of high-precision. The Company can be carried out at a variety o f machine oil purifier, trial and the automatic control system installation, commissioning and maintenance. And design, installation, commissioning, and provide reliable tracking service to the variety of industrial ship boiler automatic system. We can overhaul and provide spare parts, rotor dynamic balancing test to the various types of marine diesel engine supercharger, and provide a variety of operating parameters. The company also provide the services of design, manufacture, installation for tail shaft bearing and seal; Communication and Navigation equipment; AIS, SSAS installation services, and so on.
We do well in the business of ship spare parts and supplies. We contact with domestic and foreign spare parts manufacturers closely, and have the broad and stable supply channel, so we can provide high-quality and low prices of imports (mainly South Korea), China-made spare parts and second-hand spare parts. Our company provide inquiry, order and delivery services, also should be able to on the owner's request for equipment installation and commissioning.

The main products: all types of diesel engines, generators, equipment and spare parts, deck machinery, pumping equipment, parts and components of hatch covers, seals, hydraulic equipment and spare parts, all kinds of valves, bellows, marine electrical components, marine lighters , Meters, bearings, the life-saving and extinguisher equipment, cable, hardware tools and so on.