大连驿翔航运技术发展有限公司
公司注册在高新产业园区,依托大连海事大学的资深教授、博士生导师做为公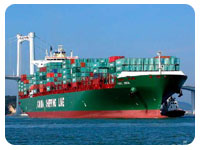 司的技术指导和坚强后盾,针对船东公司的特点及要求,我司专业人员将为您精心设计、制作船舶管理软件,内容涉及公司内部管理、海务管理、机务管理、ISM管理、财务管理、证书管理、预算控制、参数记录、网络通信、综合报告、系统学习等方面,可使船公司的管理工作现代化、正规化、简单化。
公司具有中国海事局颁发的船舶消防、救生设备检验以及船舱测氧测爆的资质,可对各类航行船舶进行上述检验并发证。
本公司是博世润滑油(OLIVE)全国唯一指定代理,经营的船用润滑油主要品种包括:船用汽缸油,船用中速机油,船用系统油,船用低温抗磨液压油,船用冷冻机油,船用齿轮油,船用透平油,船用压缩机油。供油网络遍布全国各大港口,如:大连,鲅鱼圈,秦皇岛,天津,上海,宁波,海门,烟台,青岛,连云港,厦门,广州等等

Dalian Yixiang Maritime Technology Development Co., Ltd.
The company is registered in high-tech industrial park, with technical guidance and strong backing of the senior professors and doctoral tutors of Dalian Maritime University. We design software of ship management according to owners' requirement the software with concern to company internal management, marine management, technical management, ISM management, financial management, certificate management, budget control, record parameters, network communications, comprehensive report, system learning and so on. We will make your work modernization, Standardization and simplification.
The company has the quality certificate of ship extinguisher, life-saving equipment inspection and gas free inspection oximetry that issued by China's Maritime Safety Administration. We can do about test and certification.

Our company is the only designated agents of the OLIVE lubricant, the main species of marine lubricants include: cylinder oil, medium-speed engine oil, system oil, anti-wear low-temperature hydraulic oil, frozen oil, Gear oil, turbine oil, compreser oil. Network of oil supply all over the major ports of the country,such as: Dalian, Bayuquan, Qinhuangdao, Tianjin, Shanghai, Ningbo, Haimen, Yantai, Qingdao, Lianyungang, Xiamen, Guangzhou and so on.